Masterful Parenting Book (Course Text)
|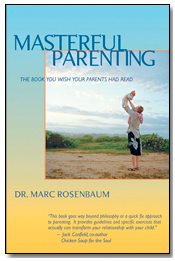 Masterful Parenting (Course Text)
MASTERFUL PARENTING:
The book you wish your parents had read
"This book goes way beyond philosophy or a quick fix approach to parenting. It provides practical guidelines and specific exercises that actually can transform your relationship with your child."
— Jack Canfield, co-authorChicken Soup for the Soul
THE AUTHOR AND PHILOSOPHY
"In order to become more effective, parents must transform from being obsessed with their childrens' behavior to becoming aware of and responsible for their own behavior. In order for change to be significant, this book approaches parenting at the level of an individual transformation that requires courage and commitment."
—Dr. Marc Rosenbaum
For the past 15 years, Dr. Rosenbaum and his Education for Excellence facilitators have presented the Self-Mastery programs to more than 4000 parents, teachers and students representing more than 200 schools in 15 separate districts throughout New York City. Although the format is different, the same principles, content and emphasis on creating a supportive environment offered to parents, provides the foundation for the students and teachers programs as well.
In 1992, with an advanced degree in psychology and more than 30 years of study with numerous practitioners in the human potential movement as a foundation, Dr. Marc Rosenbaum developed the Self Mastery social and emotional learning curriculum. After presenting the program for three years to parents and students in Santa Barbara California, he returned to New York City where he was awarded an Annenberg grant and the position of Director of Parent and Teacher Training for the Center of Educational Innovation. For the next three years, he presented his program to hundreds of New York City public school parents and teachers. In 1998 he founded Education for Excellence and assembled a team of experienced facilitators with diverse backgrounds, who have influenced the lives of more than 3000 public school parents, teachers, and students representing over two hundred schools in fifteen separate districts throughout New York City. Dr. Rosenbaum is an adjunct professor at Touro College where his book, Education for Transformation, is the text used for his three-credit Masters in Education course. His book Masterful Parenting provides the foundation for the Parent Leadership Trainings®. The quality of the parents lives improves as they explore Self-Mastery principles such as:
Conscious Choice rather than habitual emotional response.
Taking Responsibility instead of blaming others.
Acceptance of oneself and others instead of judgment.
Assertive Communication rather than habitual passivity or aggression.
Forgiveness and Empathy for oneself and others instead of hatred.
Dr. Rosenbaum consistently found that the best way to foster social-emotional competency for children is to educate the people who have the greatest influence on their lives: their parents. In other words, we teach who we are. When parents demonstrate these principles, children have a direct experience of them and absorb them into their view of themselves and the world around them.
"This book goes way beyond philosophy or a quick fix approach to parenting. It provides practical guidelines and specific exercises that actually can transform your relationship with your child."—Jack Canfield, co-author Chicken Soup for the Soul
TABLE OF CONTENTS AND QUOTES
INTRODUCTION
"In order for change to be significant, this book approaches parenting at the level of an individual transformation that requires courage and commitment."
CHAPTER ONE
YOU ALWAYS HAVE A CHOICE
"Masterful Parenting is a process of consciously choosing the most appropriate action in any given situation – the appropriate action being the one that provides the best possible experience for yourself and your children."
"Awareness makes it possible to respond to life and its challenges with opennessand compassion rather than being controlled by habitual behavior patterns."
CHAPTER TWO
WHO'S REALLY LISTENING?
"Focused listening is the essence of communication and the first step to being a masterful parent."
"When the mind is quiet, when you are able to stop the chattering, a whole new world of possibilities opens."
CHAPTER THREE
TAKE CARE OF YOURSELF SO YOU CAN TAKE CARE OF OTHERS
"Being a masterful parent requires the ability to take care of ourselves so we can better nurture our children."
"In order to be balanced and whole, we also need time to reflect, relax and experience peace."
CHAPTER FOUR
REFLECTION BEFORE ACTION AND HOW YOU RELATE TO THE ISSUE IS THE ISSUE
"The development of reflection and considering the consequences before taking action not only transforms behavior, but also is the true source of self-knowledge, creative problem-solving and self-esteem."
"Worrying is an expression of the fear that comes from not being in control of a situation."
CHAPTER FIVE
ACCEPTANCE
"Profound changes occur when we practice acceptance of ourselves, others and the world we live in."
"We suffer because we expect circumstances, ourselves and other people to be different from the way they are. In order for change to occur, we must first move from viewing reality as we think it should be to accepting the way it really is."
CHAPTER SIX
RESPONSIBILITY
"Being responsible begins with viewing each situation from the perspective of how we created, promoted or allowed what is present."
"We become powerful, effective and fulfilled when we see ourselves as the cause of what our lives look like in any particular moment."
CHAPTER SEVEN
FORGIVENESS
"Forgiveness is one of the greatest gifts we can give to ourselves."
"We take other people's behavior personally and call it betrayal when, in fact, they are really just doing what they have always done."
CHAPTER EIGHT
COMMUNICATION
"The key to having successful relationships is the ability to experience what we are feeling and to communicate that feeling to other people in a respectful manner."
"Anger is not the opposite of love. It is a response to the hurt we feel because we love."
CHAPTER NINE
EMOTIONAL UNDERSTANDING
"More than any other factor, a child's skills in managing his emotions will determine his level of achievement in life."
"These children exemplify positive attributes not because of obedience and forced compliance but because they feel connected to their parents through empathy and understanding."
CHAPTER TEN
POSITIVE DISCIPLINE
"The more awareness and empathy we bring to understanding our children's behavior, the better able we are to guide them in a positive direction."
"Behavior thoughout adolescence is guided by the goal of wanting to belong and feeling significant."
CHAPTER ELEVEN
RESOLVING CONFLICT PEACEFULLY
"Instead of me vs. you, we can reframe conflict as a way of working together to bring more wisdom and creativity into the problem-solving process."
"Not everything that is faced can be changed but nothing can be changed until it is faced."
CHAPTER TWELVE
IRRATIONAL BELIEFS AND DESTRUCTIVE HABITS
"Becoming masterful parents, requires identifying and changing the irrational beliefs that influence our perceptions of ourselves, others and the world."
"Allowing ourselves to be vulnerable, especially in intimate relationships, is necessary to establish the trust that makes love possible."
CHAPTER THIRTEEN
TRUST AND CONTROL
"One of the most difficult challenges parents face is navigating the delicate balance between freedom and control."
"The more we become aware of how much of our behavior is motivated by a need to control, the better able we are to choose more appropriate responses to life's challenges."
$17.95